SONGSEEDS - Three Chord Tricks
Conchordance
---
eBook :

---

SONGSEEDS - Three Chord Tricks

---

Conchordance is a systematic list of Three Chord Tricks that can be used as a reference book,song writing prompt or jamming tool.
---
Paperbook Book :

---

SONGSEEDS - Three Chord Tricks

---

Conchordance is a systematic list of Three Chord Tricks that can be used as a reference book,song writing prompt or jamming tool.
---
Buddy Holly
---

MAJOR SCALE (IONIAN MODE) - 3 CHORD TRICKS
The general approach taken by songwriters - successful or otherwise - who approach song writing primarily from the harmony point of view is to play around with some chords until something jumps out at them i.e. buy a ticket for the songwriting lottery and hope you guessed the winning chord combination (read lottery numbers).
However application of the statistical mathematics behind the potential number combinations produced by any lottery can generate ALL of the potential chord combinations within a particular musical key without the need for all the guesswork - this includes all those hit songs that have already been written using the randomised approach.
Every major scale generates a predictable series of chords (built using a mixture of major and minor third intervals); with the simplest having 3 notes (triads) and the most complicated using all 7 notes of the major scale (thirteenths).
The simplest major scale, from a note naming point of view, is C major because it has ZERO sharp (#) or flat (b) notes.
INTERVAL NUMBER

1

2

3

4

5

6

7

NOTE NAMES

C

D

E

F

G

A

B
Harmonizing the C major scale in thirds i.e. start on each note in turn taking every other letter of the scale until 3 notes have been accumulated e.g. C, E, G – C major; D, F, A – D minor; E, G, B, - E minor;
F, A, C – F major; G, B, D – G major; A, C, E – A minor; B, D, F – B diminished.
C MAJOR SCALE HARMONY (Ionian mode)

I

IIm

IIIm

IV

V

VIm

VIIdim

C

Dm

Em

F

G

Am

Bdim
The tab that follows shows the harmonised C major scale (using open chord shapes - apart from F major):-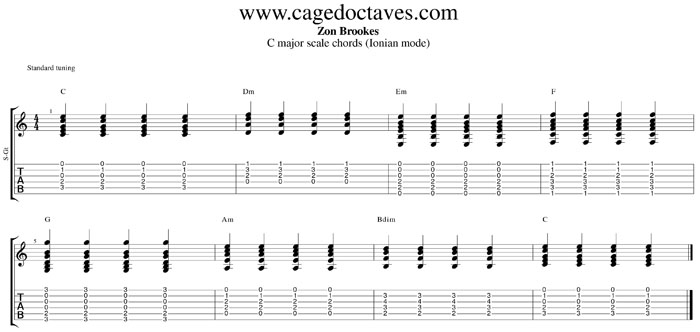 Songs can and have been written using only one chord (Exodus by Bob Marley for example); however this method requires a very strong melody and interesting rhythm to make repeated listening worthwhile.
The next stage on from the one chord based song is the two chord progression or the TWO CHORD TRICK
with this approach the harmony (chords) add a little more interest from the start of the creative process.
In the 1950's when Rock and Roll began with artists like Chuck Berry, Buddy Holly, Gene Vincent, and Eddie Cochran the real
King of the Chord Progressions
was the
THREE CHORD TRICK
. These early popular songwriters knew a good thing when they saw and heard its effect on the original teenagers; with entire careers being based on its application. Lots of these early efforts were fashioned around chord numbers
I
,
IV
and
V
in the usual guitar based key signatures C, A, G, E and D or benefitted from the judicial use of a capo to explore more difficult keys (still using the
easy
open chord shapes).
However as talent, musical chance, good-luck or divine intervention (call it what you will) was the driving force behind these early 3 chord based hits only a small fraction of the potential variations were stumbled upon. This bodes well for the mathematical approach as it does not simply rely on either finger memory, familiarity with others work or pure and simple random chance.
Using the 7 chords generated from the major scale (ionian mode) there are a total of 35 chord progressions when 3 chords are selected at one time and these relationships have been tabulated for C major as follows:-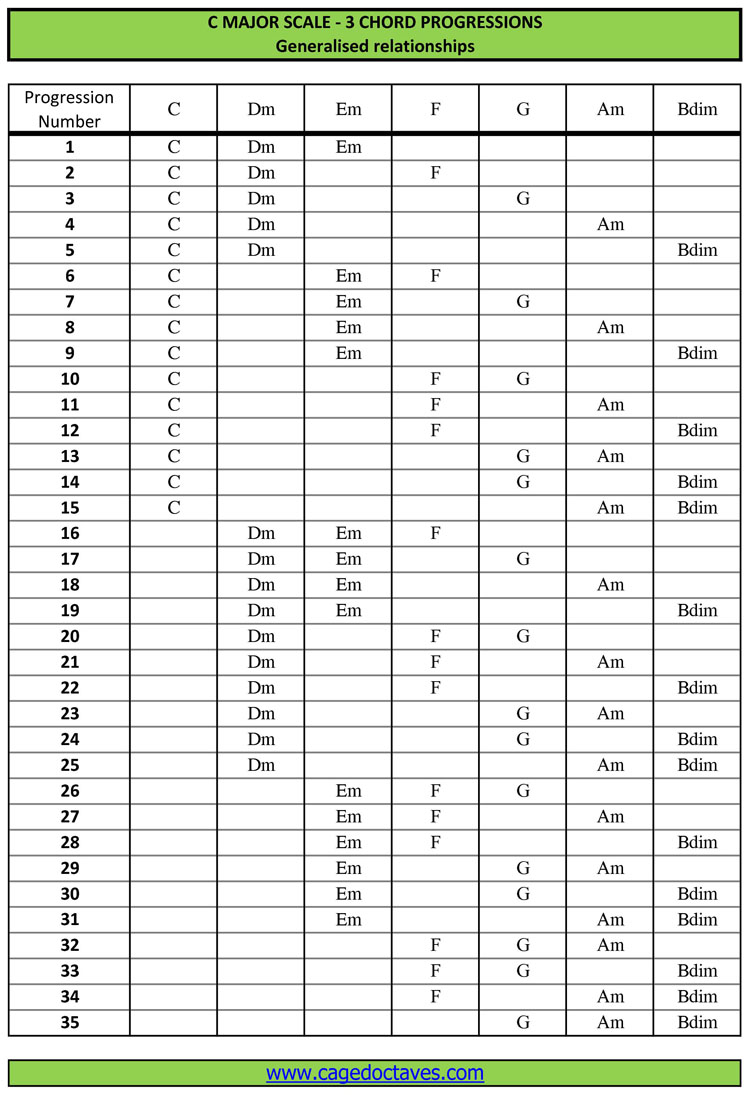 The table above can also be generated for all seven SHARP major scales as defined by the CYCLE OF FIFTHS

Similarly the table can be produced for the FLAT major scales as defined by the CYCLE OF FOURTHS

These 35 numerically ordered 3 chord progressions can each then be rearranged a total of 6 times with the
I, IV and V progression used in part of the verse for the Buddy Holly song Everyday highlighted below:-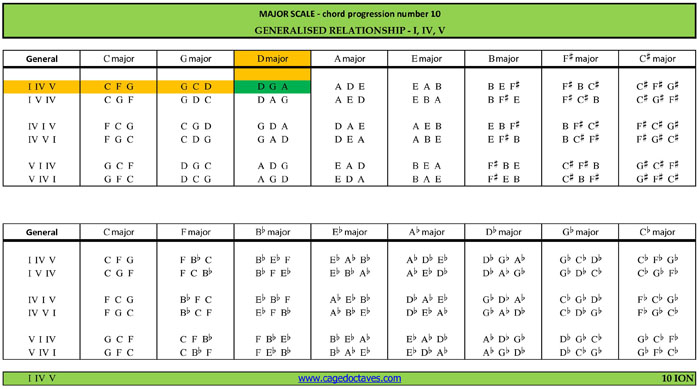 The remainder of the Everyday verse is built around two 2 chord progressions - I, IV and I, V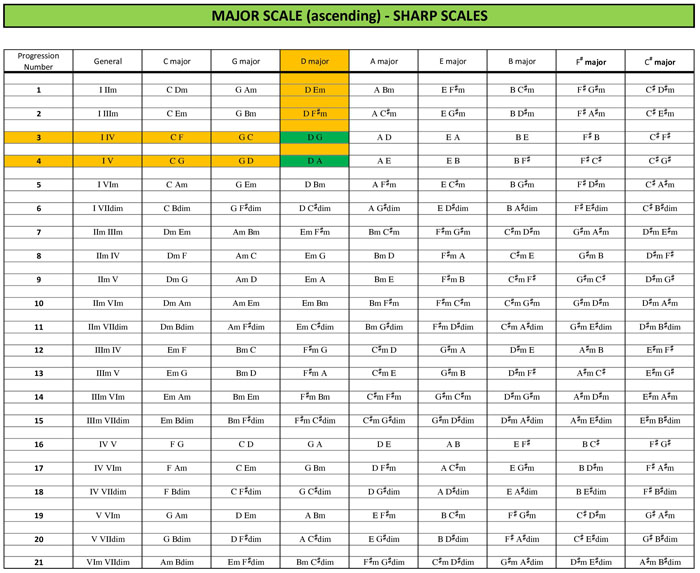 ---
---